ASID Builds Careers, Boosts Businesses & Expands Networks at METROCON17 Expo & Conference

On August 10th & 11th, Market Hall in Dallas, Texas, buzzed with 2,500 interior designers, architects, specifiers, facility managers, real estate professionals, design students and other essential industry members catering to the built environment when it hosted METROCON17 Expo & Conference.
The event, which is the largest not-for-profit, self-produced, volunteer-driven, design specification-focused regional expo and conference in the USA, attracted individuals from 35 states besides Texas, as well as four Canadian provinces.
This year marks the event's 15th anniversary, which the Committee of 22 dedicated volunteers celebrated, along with two other milestones: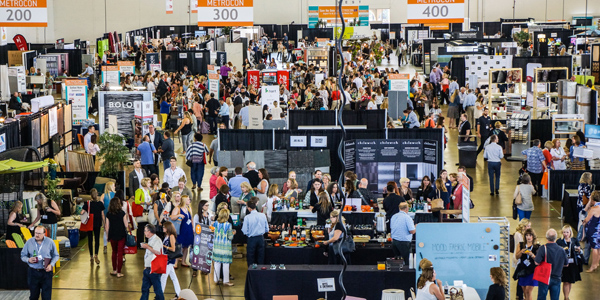 The Conference Featured Top-Tier Programming
Headlining as this year's Keynote Speakers were Sandy Chilewich and Joe Sultan (pictured below), partners in life, work, and innovation, and the dynamic duo behind the global company Chilewich | Sultan LLC based in New York City. For the first time ever, Sandy and Joe took the stage together to share the ups and downs of building and maintaining a successful business, as well as the real challenges of working with one's spouse. Their candid comments were refreshing, inspiring, and extremely entertaining.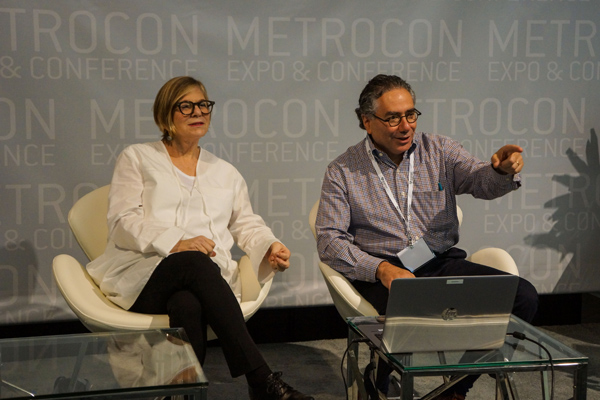 Three diverse Seminars informed audiences of sales and facility professionals, manufacturer and dealer representatives, students, and practitioners:
"Introduction to The WELL Building Standard": Corgan's Caroline Compton, WELL AP, RID, explained how this performance-based rating system marries best practices in design and construction with positive behavioral aspects that have been proven to increase productivity, health, employee satisfaction, and employee retention. FYI: Did you know that ASID members receive a discounted fee on the WELL AP Exam? Visit asid.org/learn/well to learn more.


"Design Dish": Five restaurant designers – William Baker w/ Jones Baker, Miguel Vincens & John Paul Valverde w/ Coeval Studio, and Royce Ring & Alex Urrunaga w/ planBgroup – discussed how they are maximizing the consumer appeal, operational efficiency and success of F&B concepts. They shared upcoming design previews, as well as their viewpoints on the new regional restaurant trends and why some concepts do not have the longevity to stick around.


"How to Navigate the FF&E Process – Conceptual Design to Installation, the Players and their Roles": This panel discussion featured a senior interior designer (Kenda Draper, ASID, RID, LEED AP ID+C w/ SmithGroupJJR), a designer with a university (Stephanie Andrus w/ Texas Women's University), a dealer project manager (Lynn Meeker w/ Wilson Office Interiors), and a furniture representative (Sonya Odell, FASID, RID w/ The Ginger Grant Group), who collectively explained how to get the best project from the initial design concepts to the final move-in.

METROCON17 also featured 45 CE courses over two days covering a wide array of topics applicable to various design practice areas. All CE courses were cumulatively reviewed and approved by IDCEC, 21 were AIA-approved, 17 GBCI-approved, 14 EDAC-approved, and 41 hours had HSW content to meet TBAE CE requirements for Registered Interior Designers & Registered Architects in Texas.
ASID Acted as the Core of the Design Network
ASID CEO Randy Fiser (pictured right below), led the innovative CEU Panel Discussion "Raising the Industry Profile: A Conversation with Leaders," which featured four high-level leaders, each representing one of the associations partnering to organize METROCON17:
Charrisse Johnston, ASID, Assoc. AIA, LEED AP BD+C (Los Angeles, CA): Principal – Steinberg Architects | ASID National Chair (pictured 2nd from right)
Dennis Hall, FAIA, FCSI (Charlotte, NC): CEO – HALL a/e/c PA | Past President of CSI (Construction Specifications Institute) (pictured center)
Trisha Poole (Winter Park, FL): President – Design Poole, Inc. | President of NEWH, Inc. (The Hospitality Industry Network) (pictured 2nd from left)
Rhiannon Jacobsen (Washington, DC): Vice President of Strategic Relationships – USGBC (U.S. Green Building Council) (pictured left)
The panelists discussed the increasing need for multi-disciplinary collaboration within the built environment due to complexity and technology, as well as concerns of sustainability, resiliency, and wellness, and how all of these issues are driving our industry.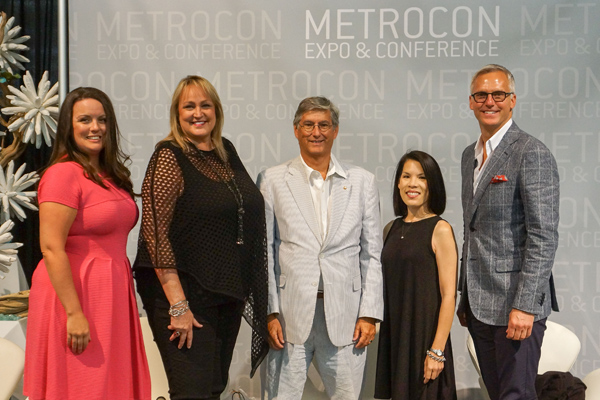 Several Companies were Trade Show Standouts
Manufacturers, fabricators and service providers catering to the corporate, education, healthcare, hospitality, institutional, multifamily, residential, and retail design sectors filled 36,000+ SF of exhibit space, showing and/or sponsoring under 277 names, 90+ of which were not on last year's list.
We enthusiastically thank Landmark Sponsor STAPLES Business Advantage, Media Sponsor Modern Luxury Interiors Texas, and the 51 other 2017 Sponsors for their incredible support, as well as a long list of ASID Industry Partners who exhibited at the show. We would like to call out the IPs who sponsored this year's event:
Abstract Art by Naomi
American Olean
Arizona Tile
Armstrong Ceilings & Flooring
Caesarstone
Cambria
Dallas Market Center
Dallas Rugs
Emser Tile
Fiber-Seal
Interior Resources
LDF Silk
Legrand
PPG Paints
ProSource Wholesale
QDI Surfaces
Sherwin-Williams
Verona Prive
Wilsonart


Congratulations to the recipients of the 2017 Pegasus Exhibitor Awards!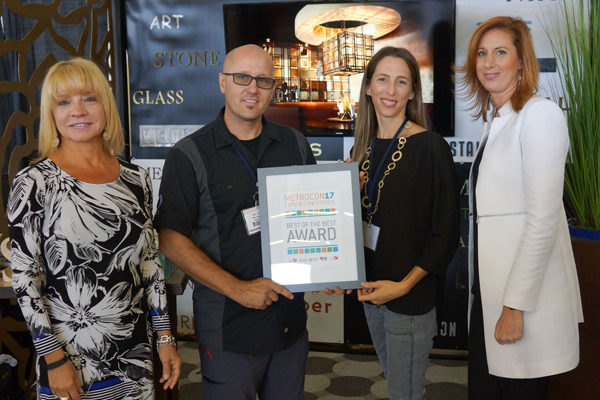 Many thanks to Chapter Presidents Hugh Scarbrough, ASID, RID, and Dennis McNabb, FASID, for devoting several hours during the show to be the ASID Texas and ASID Texas Gulf Coast representatives, respectively, on the Pegasus Exhibitor Awards judging team.
And cheers to the following 2017 Booth Bingo Winners, each of whom received a $100 American Express Gift Card in the mail after the show:
Pat Brewer, Allied ASID (Houston)
Jamie Martin (Dallas)
ASID Mentored the Next Generation
Tiffany Neumann, ASID's Senior Associate of Student Programs, oversaw two programs for students and new graduates on the second day of METROCON17:
Now in its fourth year at METROCON, ASID's well-established Career Exchange brought students and recent graduates together with design professionals and industry representatives for 90 minutes to gain insight into the interior design profession. Thank you to the following companies who took the time to share their valuable knowledge:
Résumé & Portfolio Reviews: BOKA Powell, Boudreaux Associates, Design Duncan Miller Ullmann, Dinah Capshaw Interior Design, Forrest Perkins LLC, Michelle Lynne Interiors Group, Omniplan, Sara Jane King Design, Wilson Associates.
Table-top Displays: BMC Design, Caesarstone, California Closets, Emser Tile, Walker Zanger, and Wilsonart.
For the third year in a row, ASID brought its Student Roadmap program to METROCON. This hour-long program exclusively for ASID Student Members allowed aspiring designers to experience a curated tour of the expo as to learn how to engage with industry at trade shows. Cody Rackley, Student ASID, Lisa Sorenson, Allied ASID, and Jessica Wilhelm, Allied ASID, each took groups of students around the floor, visiting the exhibits of six national ASID Industry Partners: Allermuir, Benjamin Moore, Haiku, Hansgrohe, Sherwin-Williams, and Wilsonart.
Special kudos goes to the ASID Texas Gulf Coast Chapter, who for the fourth consecutive year chartered a bus from Houston, bringing 20+ Student Members to Dallas to experience the event and participate in student programming.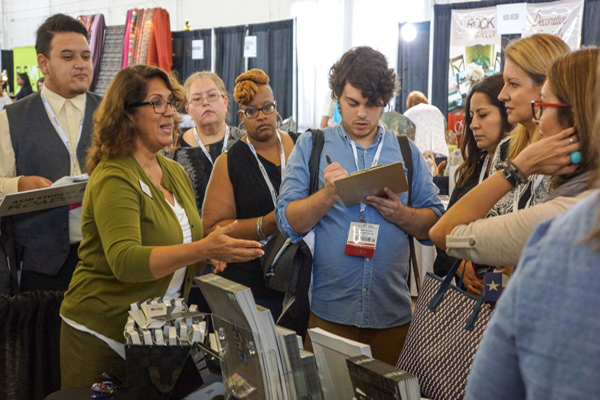 Many Thanks to those who brought the ASID Booth to Life
The following people and companies also deserve a round of applause for helping make the shared ASID Texas Chapter / ASID Texas Gulf Coast Chapter booth a welcoming, productive haven where members could rest, recharge, and get a professional headshot taken for a discounted fee:
Planners: Abigail Syltie w/ ASID Industry Partner Redstone Kitchens; Kay Cosby, ASID, RID; and Christine Eustice, ASID, RID
Furniture: ASID Industry Partner Arteriors
Rugs: ASID Industry Partner Feizy
Audio-Visual Help: ASID Industry Partner Audio Video Innovations
Additional Signage: Matthew Collins w/ ASID Industry Partner Allied Stone, Inc.
Headshots: Serkan Zanagar Photography
It Took a Village to Make METROCON17 Happen
Show Manager Laura McDonald Stewart, FASID, RID, LEED AP, cannot thank her fellow ASID members on the 2017 Committee enough for their time, effort and dedication to make this labor of love so successful for the entire region (listed in alphabetical order by last name):
Melinda Crouch, ASID IP Representative – Volunteer Coordinator
Kenda Draper, ASID, RID, LEED AP ID+C – Co-Chair Elect
Courtney Engberg-Hulse, ASID IP Representative – Asst. Site & Logistics Chair
Dianne Etheredge, ASID, RID – Asst. Sponsor Liaison
Theresa Harrison, ASID IP Representative – Asst. Volunteer Coordinator
Allen Hart, ASID, RID – Past Presiding Chair
Isin King, Allied ASID – Asst. Exhibitor Liaison
Annette Mallard, ASID, RID – Co-Chair
Dennis McNabb, FASID – Asst. Ambassador Liaison
Rosemarie René, ASID, RID – Sponsor Liaison
Sharon Staley, FASID, RID – Asst. Sponsor Liaison
Please join her in expressing gratitude to the 11 additional Committee members who worked throughout the last year to plan and promote this landmark collaborative event (listed in alphabetical order by last name):
Nick Cimms, PMP – Program Coordinator
Lisa DiOnne, Associate IIDA, LEED AP ID+C – Site & Logistics Chair
John DuBard, IIDA, CHID, LEED AP – Presiding Chair
Stacy Elliston, IIDA, LEED AP, RID – Asst. Ambassador Liaison
Susan Flanagan, LEED AP ID+C – Asst. Program Coordinator
Tricia Loe, LEED AP BD+C, LEED AP ID+C, WELL AP – Asst. CE Coordinator
Bruce McClure, RA – Asst. Program Coordinator
Jose Montoya, Assoc. AIA, LEED AP BD+C, ID+C, O+M – Ambassador Liaison
Rachel Polk, CSI – Asst. CE Coordinator
Brenda Reber, Industry IIDA – CE Coordinator
Dana Smith, Affiliate IIDA – Exhibitor Liaison
Laura and the Committee also want to express our heartfelt gratitude to the many volunteers who donated their time on-site during the show to assemble attendee tote bags and speaker gift bags, guide attendees, introduce speakers, and monitor CEUs. This event could absolutely not happen without you!
METROCON17 Benefits Our Industry
We were thrilled to present the METROCON17 Keynote Award honoring Keynote Speakers Sandy Chilewich and Joe Sultan of Chilewich | Sultan LLC. On their behalf, Metrocon, Inc. has donated $1,000 to the Interior Design Educators Council (IDEC), whose mission is the advancement of interior design education, scholarship, and service. IDEC President-Elect Hepi Wachter, ASID, CAPS, LEED AP (pictured left), and IDEC Southwest Regional Chair Kristi Gaines, PhD, Allied ASID, IIDA (pictured center), gladly accepted the award from METROCON17 Presiding Chair John DuBard, IIDA, CHID, LEED AP (pictured right), on IDEC's behalf.
Additionally, any income from this year's event will go to the Committee members' respective built environment organizations to fund valuable programming and scholarships or to those organizations' respective foundations and designated charities.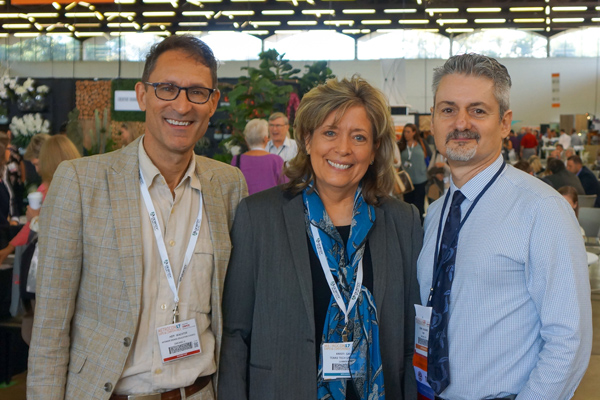 DO NOT MISS METROCON18!
Put it on your calendar now: METROCON18 Expo & Conference will take place back in Dallas on August 9 & 10, 2018. Visit metrocon.info to find links to view photos from this year's show and to sign up to receive notifications to stay informed about attending and/or presenting, sponsoring, and exhibiting at next year's show.