METROCON18 Expo & Conference: A Sweet Success in its 16th Year

If you were not at Dallas Market Hall on August 9 & 10, then you missed out on an amazing opportunity to learn from and connect with 2,200+ members of the built environment representing 1,065 companies.
The event, which is the largest not-for-profit, self-produced, volunteer-driven, design specification-focused regional expo and conference in the USA, celebrated 16 years of industry collaboration and attracted 55 event sponsors, more than any other year in the event's history.
For the second year in a row, five associations joined forces to plan and execute a more expansive event for their members and beyond: (in alphabetical order) ASID Texas Chapter, ASID Texas Gulf Coast Chapter, CSI Dallas Chapter, NEWH Dallas Chapter, and USGBC Texas Chapter.
METROCON18 showcased 160 Exhibitors representing 211 manufacturers, service providers, and organizations representing all practice areas and market segments, and it attracted interior designers, architects, facility managers, students, and a myriad of other essential design industry members from Texas, Oklahoma, and 22 other states across the USA.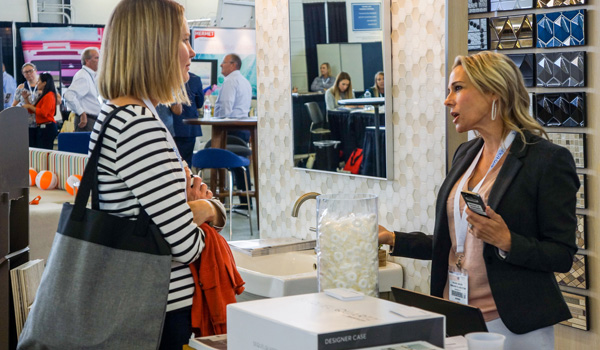 ESSENTIAL & EXCITING EDUCATION
This year's conference delivered 51 hours of premium programming on timely topics presented by 62 industry experts. Offerings included two Seminars, two Student Programs, five tours, a Keynote that doubled as a CEU, and 40 other continuing education courses. All CEUs were IDCEC-approved and qualified as CEPHs to meet requirements for Registered Interior Designers and Architects for the Texas Board of Architectural Examiners, and many also were approved by AIA, EDAC, and GBCI.
Keynote Address: Sustainability champion Steve Glenn delivered the keynote address. An über entrepreneur, he is the Founder & Managing Director of LivingHomes and the CEO of Plant Prefab, companies that work together to design and develop modern, prefabricated homes that combine world-class architecture with an unparalleled commitment to healthy and sustainable construction. Glenn discussed the opportunities and challenges of prefabrication and the strategies he uses to create LEED Platinum level homes for all strata of society. A designer in attendance remarked: "The keynote was very effective. It was great to have public-interest design represented."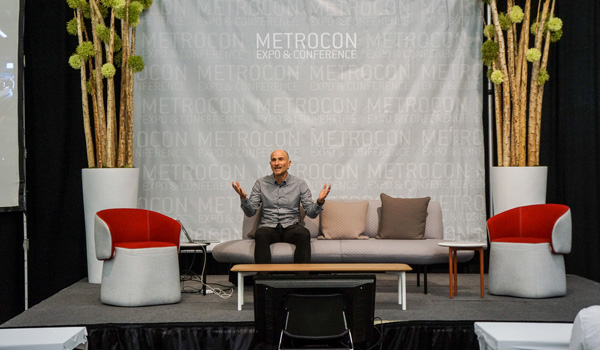 Continuing Education: Although many CEUs received rave reviews, the two most talked about were:
"Understanding the Disability Community and Exceeding the Minimum Standards of Access" presented by the Coalition of Texans with Disabilities' Director of Advocacy Chase Bearden & Policy Intern Spencer Cook. Both speakers are wheelchair-bound and have additional physical challenges. One audience member told us: "This course exceeded my expectations. I enjoyed the examples, and it helped me to look with a new perspective on not only complying with standards, but also thinking design solutions through with an empathetic perspective."
"Create Better Spaces: Autistic-Friendly Designs" presented by interior designers Julie Truong and Jackie Wheat, RID, LEED AP with Principal Kelly Baughman, all with Houston A&D firm PDR. The panel emphasized that by understanding all human experience through research, we can create better spaces and serve all who inhabit them. Truong herself has autism, and despite it being her first public speaking engagement, the reaction of those who attended was overwhelmingly positive: "the best CEU," "one of my favorites," and "totally fantastic!" After her talk, Truong herself said that the experience had made her "a stronger person" and thanked us for giving her the opportunity to push past her comfort zone.
Seminars: Two diverse seminars were designed to be of interest and benefit to design, facility and sales professionals, as well as students and manufacturer representatives:
"Boost Your Brain Performance": Dee O'Neill, MS, LPC, the Senior Clinician and Corporate & Executive Program Manager with the Center for Brain Health, walked her audience through steps to take to revive mental energy, enhance strategic thinking, and incite innovation with healthy brain habits in order to enhance their professional and personal lives.
"The Statler Reborn": Gale Nall, RID and Lee Fluker, RID of Merriman Anderson Architects explored the challenges and triumphs of their $175 million, four-year renovation of The Statler Dallas. The building, which had been on the "Most Endangered Historic Properties" list, has been transformed into a luxury property with 159 guest rooms, 219 apartments and five food and beverage venues.
Student Programming: On the second day of the show, ASID Headquarters presented Design Pathways, which combined a panel discussion with trade show tours. Four experienced design professionals – Nicki Estes, RID, EDAC, ASID, LEED AP ID+C of Perkins+Will; David Euscher, ASID, IIDA, LEED AP of Corgan; Amie Keener, RID, IIDA, LEED AP, CDT of Gensler; and Ana Pinto-Alexander, RID, IIDA, EDAC of HKS – explained to emerging designers why trade shows and conferences are so vital and the importance of participating in them throughout one's career.
Afterwards, the designers led small groups of students around the trade show floor, visiting ASID Industry Partners Armstrong Ceiling Solutions, Arizona Tile, Benjamin Moore, Hufcor, Karndean Designflooring, and Sherwin-Williams for presentations and discussions.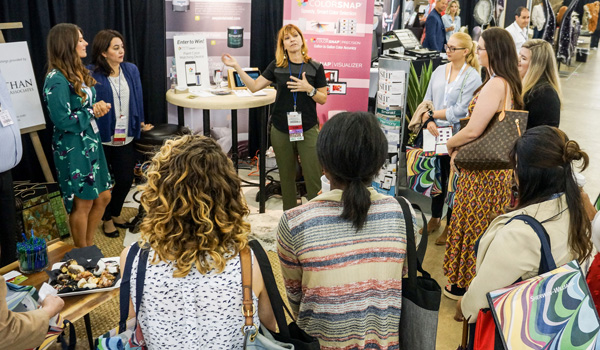 Tours: Landmark Sponsor Dallas Market Center partnered with METROCON18 for tours of their Light + Design on TEN showroom. During five one-hour tours over two days, 20-person groups were shuttled to and from the World Trade Center, receiving a guided tour in order to experience the 20,000 SF lighting center that showcases a curated collection of the world's leading lighting manufacturers and designers.
STANDOUT SUPPORTERS
We wholeheartedly thank Landmark Sponsor Dallas Market Center, Media Sponsor Modern Luxury Interiors Texas, and the 53 other METROCON18 Sponsors for their incredible support. We are also grateful for all of the ASID Industry Partners who exhibited at the show, and we want to recognize the following IPs who sponsored this year's event:
Some Exhibitors stood out among the rest. Congratulations to the recipients of the 2018 Pegasus Exhibitor Awards!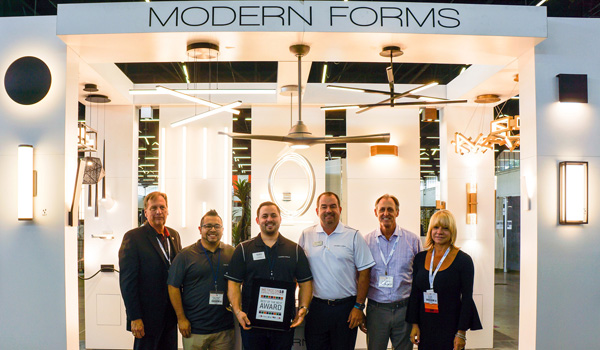 NEW IDEAS
From a more open trade show floor plan with expanded visibility to an altered show schedule to benefit both attendees and exhibitors, METROCON implemented many new ideas based on last year's post-show survey feedback.
Design Charrette: We hosted our first charrette at this year's event. We reached out to regional interior design and architecture programs, asking them to nominate up to four students to participate in this invitation-only opportunity. Three teams were recognized, with each member of the 1st Place team receiving a $250 Gift Card for school supplies. Congratulations to the winning team [Team 4] made up of the following students:
Allison Ray – El Centro College
Beatriz Perez – Texas State University
Shane Smith – University of North Texas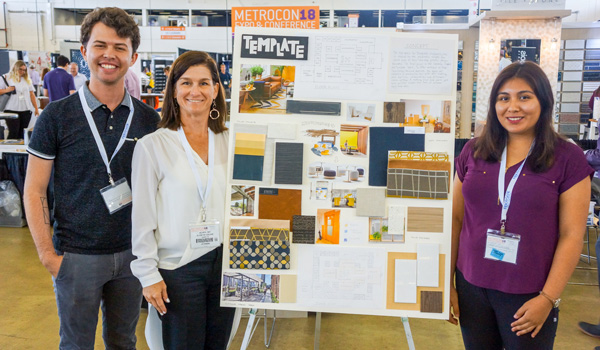 Campus Quad: For the first time we gave regional academic programs focusing on the built environment the opportunity to publicize their programs, promote the talent they produce, and connect with alumni through displays on our trade show floor in our Campus Quad. The following 10 institutions took advantage of the free offer:
Collin College
Oklahoma State University
Stephen F. Austin State University
Texas Christian University
Texas Tech University
The Art Institute of Dallas
The Art Institute of San Antonio
The University of Oklahoma
University of the Incarnate Word
University of North Texas
Selfie Spots: We live in the era of social media, and for those manufacturers with products perfect for selfie backdrops, we offered the opportunity to showcase them on one large surface instead of in a traditional booth. Thank you to Speech Privacy Systems for sponsoring and building our three Selfie Spots structures, and kudos to National Wallcovering, Positive Marketing USA, and Wolf Gordon for being guinea pigs for this exhibition experiment.
Mobile Event App: For convenience and environmental reasons, people have asked us to use less paper. We responded by expanding the capabilities of our mobile event app. Instead of using paper surveys, this year attendees provided feedback on educational sessions directly on the app. Also, instead of using printed Booth Bingo cards, attendees used the app to rack up points for a chance to win one of two $100 Visa gift cards. Congratulations to this year's Booth Bingo winners!
Lauren McLain, AIA, NCARB, LEED AP BD+C – Architect at University of Texas at Arlington
Seanna Ross, RID – Project Coordinator at idGROUP (Austin)
Community Involvement: As this is the Year of the Dog, it inspired us to work with non-profit organization Straydog, a no-kill dog shelter and sanctuary in the Dallas area. Their primary mission was to raise awareness about the important work they do and encourage the adoption of dogs looking for safe and loving homes. However, we were happy to help them with their second mission: seeking resources to construct a new building to serve dogs in need. (This new collaboration got the attention of Dallas television channel The CW33, who joined us the first day of the show and ran a short segment on their 9:00 PM news hour that evening.) If you are interested in donating services, time, products and/or money to help Straydog's cause, contact them directly through their website, Straydog.org.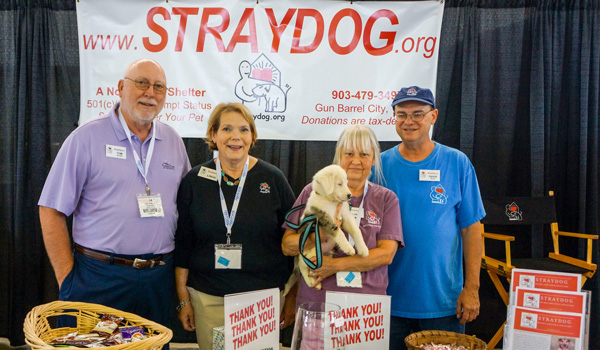 AWARD-WINNING TEAM
As mentioned above, the shared ASID Texas Chapter / ASID Texas Gulf Coast Chapter booth won this year's Pegasus Mission Award for Exhibitors!
Metrocon Inc.'s mission is to introduce new products and ideas to our region's community of Interior Designers, Architects, Specifiers, Facility Managers, Real Estate Professionals, Students and other Essential Industry Members catering to the built environment. Therefore, the Mission Award is meant to go to the Exhibitor who – through displays, actions, promotions, attitude and/or spirit – was most in alignment with the event's mission.
ASID Texas Chapter President-Elect Julie Reynolds, ASID, RID, is the primary person to thank for coordinating and implementing this year's award-winning booth, and she would like to thank Jonathan Linares, Student ASID, for helping set up the booth, as well as recognize the following companies for contributing to the educational effectiveness of the space's message:
STELLAR VOLUNTEERS
Show Manager Laura McDonald Stewart, RID, FASID, IIDA, LEED AP, is extremely thankful to her fellow ASID members on the 2018 Committee for their time and devotion to make this valuable event so successful for the entire region (listed in alphabetical order by last name):
Melinda Crouch, ASID IP Representative – Volunteer Coordinator
Kenda Draper, ASID, RID, LEED AP ID+C – Co-Chair
Dianne Etheredge, ASID, RID – Asst. Sponsor Liaison
Theresa Harrison, ASID IP Representative – Asst. Volunteer Coordinator
Isin King, Allied ASID –Exhibitor Liaison
Annette Mallard, ASID, RID – Presiding Chair
Dennis McNabb, FASID – Asst. Ambassador Liaison
Rosemarie René, ASID, RID – Sponsor Liaison
Sharon Staley, FASID, RID – Asst. Sponsor Liaison
Please join us in expressing gratitude to the 12 additional Committee members who worked throughout the last year to plan and promote this collaborative event (listed in alphabetical order by last name):
Erica Bish, RA – Asst. Program Coordinator
Nick Cimms, PMP, CSI, NEWH– Program Coordinator
Lisa DiOnne, Associate IIDA, LEED AP ID+C – Site & Logistics Chair
John DuBard, IIDA, CHID, LEED AP – Past Presiding Chair
Stacy Elliston, IIDA, LEED AP, RID – Asst. Ambassador Liaison
Courtney Engberg-Hulse, IIDA – Asst. Site & Logistics Chair
John Forest, RID, LEED GA, GREEN AP– Asst. Exhibitor Liaison
Bruce McClure, RA – Asst. Program Coordinator
Marc Migliazzo, LEED GA – Asst. CE Coordinator
Jose Montoya, Assoc. AIA, LEED AP BD+C, ID+C, O+M – Ambassador Liaison
Stacia Pease, LEED AP – Asst. CE Coordinator
Rachel Polk, CSI – CE Coordinator
The Committee also wants to express its heartfelt gratitude to the many volunteers who donated their time on-site during the show to assemble attendee tote bags and speaker gift bags, guide attendees, introduce speakers, and monitor CEUs. This event could absolutely not happen without you!
Lastly, many thanks to Chapter Presidents Christine Eustice, ASID, RID, and Shundra Harris, ASID, RID, for devoting several hours during the show to be the ASID Texas and ASID Texas Gulf Coast representatives, respectively, on the Pegasus Exhibitor Awards judging team.
PLAN NOW TO BE A PART OF METROCON19!
Mark your calendar now: METROCON19 Expo & Conference will take place in Dallas on August 8 & 9, 2019. Visit metroconexpo.org to find links to view photos and statistics from this year's show and to sign up to receive notifications to stay informed about attending, presenting, sponsoring, and exhibiting at next year's event!