METROCON19 Expo & Conference: Professional, Productive & Personal
Were you one of the 1,800+ members of the built environment who registered to attend METROCON19 Expo & Conference August 8 & 9 in Dallas? If not, then you missed out on an amazing opportunity to learn from and establish connections with regional interior designers, architects, engineers, consultants, students, representatives, contractors, etc. from over 900 firms, manufacturers, dealers, service providers, organizations, and academic institutions.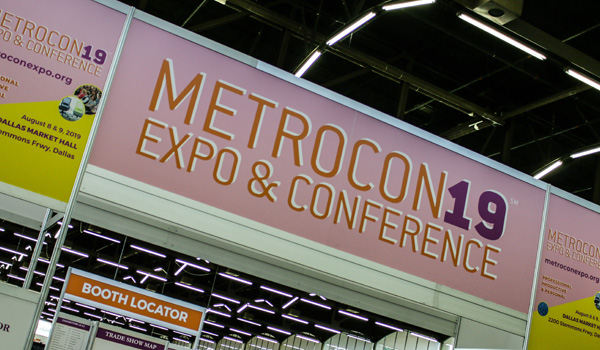 The event, which is the largest not-for-profit, self-produced, volunteer-driven, design specification-focused regional expo and conference in the USA, celebrated 17 years of industry collaboration, and for the third year in a row, five associations joined forces to plan and execute a more expansive event for their members and beyond: ASID Texas Chapter, ASID Texas Gulf Coast Chapter, CSI Dallas Chapter, NEWH Dallas Chapter, and USGBC Texas Chapter.
VITAL & RELEVANT EDUCATION
This year's conference delivered 43 hours of premium education on timely topics presented by 69 industry experts. Offerings included two Student Programs, two outstanding Keynotes that doubled as CEUs, and 41 other continuing education courses. All CEUs were IDCEC-approved, 41 qualified as CEPHs to meet requirements for Registered Interior Designers and Architects for the Texas Board of Architectural Examiners, and many also were approved by AIA, EDAC, and GBCI.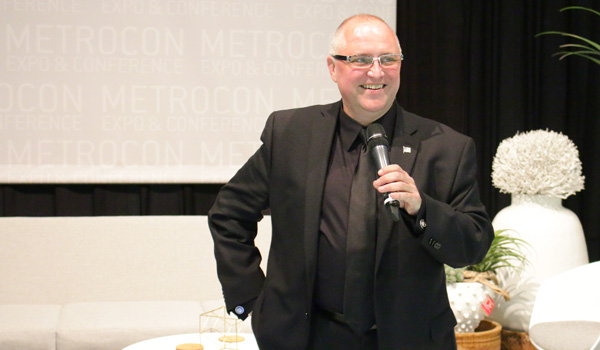 Keynote Address: We offered two outstanding Keynotes this year for extra inspiration.
Thursday Keynote: "Smart Buildings, Smart Cities and their Effect on Design" presented by Paul Doherty, AIA, CDT, IFMA Fellow, President & CEO of TDG – the digit group, inc. | Paul's visionary content generated several comments like "I didn't really know what to expect but this session blew my mind. The speaker brought truly new and innovative ideas!"
Friday Keynote: "WELLness is Universal" presented by Jessica Rose Cooper, WELL AP, NCIDQ, LEED AP ID+C, Chief Commercial Officer of the International WELL Building Institute | Jessica's engrossing style produced reactions like "Great speaker. She knew the material and engaged the audience. I knew little of WELL having only seen LEED, and this was very informative to a WELL beginner."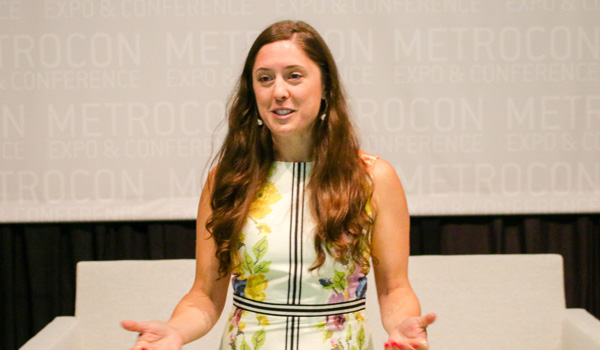 Continuing Education: Although many CEUs received wonderful reviews, two highlights were:
"With Creativity in Mind: Design Psychology for Innovation-Driven Environments" presented by Donald M. Rattner, AIA w/ Donald M. Rattner, Architect. The response of those who attended was overwhelmingly positive: "Hands down, the best CEU this year," " This was an amazing course," and "Best presentation I have seen in years – loved it!"
"Bringing Healing Environments Home: Bridging the Gap Between Residential and Healthcare Design" presented by Diane Alexander, ASID, EDAC, LEED AP w/ Making Sensory Design; Shundra Harris, ASID, RID w/ Shundra Harris Interiors; and Donna Vining, NCIDQ, FASID, IIDA, RID, CAPS, REGREEN Trained w/ Vining Design Associates. The panel received positive feedback like "This was an outstanding presentation!" and "The information was excellent and the best seminar I took at the conference."
Student / New Graduate Programing: Realizing that they are the future of our industry, we again offered programming just for students and new graduates.
Trade Show Tour: On Thursday afternoon, burgeoning designers were taken on a tour around the expo floor to meet exhibitors for informal presentations and discussions. Students were given insight on how to evaluate products and why it is so critical to one's success to make connections and establish strong vendor relationships throughout one's career.
Meet & Greet: On Friday, students and new graduates were provided the opportunity to meet design professionals practicing in a variety of markets. Up-and-comers were able to bring their resumes and portfolios or just bring their questions for this casual, one-on-one gathering.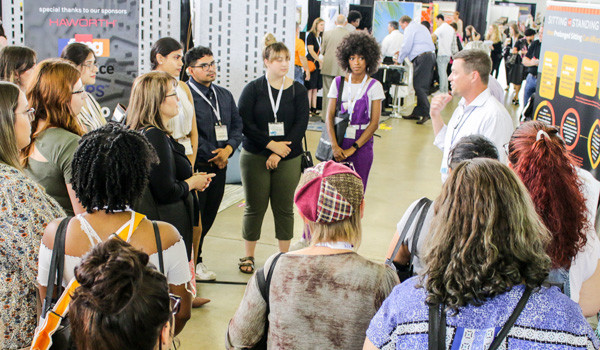 STELLAR SUPPORTERS
We wholeheartedly thank ASID Industry Partner Landmark Sponsor Dallas Market Center, Media Sponsor Modern Luxury Interiors Texas, and the 40+ other METROCON19 Sponsors for their incredible support. We are also grateful for all of the ASID Industry Partners who exhibited at the show, and we want to recognize the following IPs who sponsored this year's event:
Some Exhibitors stood out among the rest. Congratulations to the recipients of the 2019 Pegasus Exhibitor Awards!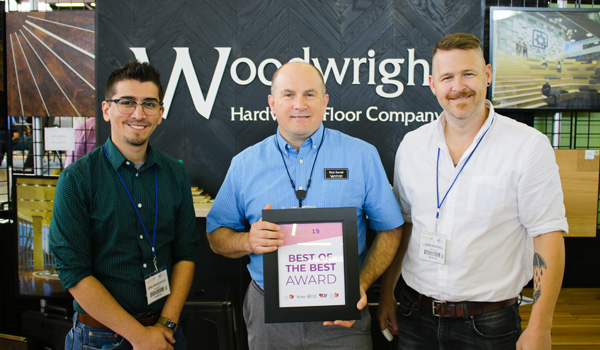 NEW IDEAS
From a more open trade show floor plan with expanded visibility and additional lounge areas to an altered show schedule to benefit both attendees and exhibitors, METROCON implemented many new ideas based on last year's post-show survey feedback.
Mobile Event App: Again, for convenience and environmental reasons, instead of using paper surveys, attendees provided feedback on educational sessions directly on the app. Also, instead of using printed ballots, for the first time people used the app to vote on their favorite exhibits, including our new People's Choice category and our new Design Vignettes.
Design Vignettes: For the first time ever, we selected area Architecture & Design firms to collaborate with their favorite vendors on market-specific vignettes as to celebrate the diversity of our profession and the impact we make on people's lives. Participants were Studio 11 Design [Hospitality], SmithGroup [Workplace], and REES Associates [Healthcare], with the latter firm being voted the people's favorite. REES Associates would like to thank the following companies for contributing to their vision: Architectural Lighting Alliance, Altro, Cornelius Signage, Design Within Reach, Kwalu, Patcraft, Remi, Swavelle, and Wolf Gordon.
Kick-Off Party: Though we've had Wednesday evening Kick-Off events before, this was the first year it was hosted by an Architecture & Design firm. Before the expo and conference got rolling, party-goers mixed-n-mingled in the newly expanded and renovated offices of Corgan. They enjoyed refreshing sips and snacks sponsored by Thorntree in and around rooftop patios, as well inside the stunning new space, all while doing a little pre-conference networking.
Design Crawl: On Thursday evening after our Happy Hour ended at Market Hall, the party wasn't over! Crawlers sipped and noshed while experiencing even more new products and networking with colleagues in the impressive Design District showrooms of Allsteel, National Office Furniture, and Steelcase.
Community Involvement: During both days of the event, talented students painted a 10' tall x 18' long mural that will be permanently installed at the 9-1-1 Call Center at Dallas City Hall. Thanks to sponsor PSGI / P.S. Gerry, Inc. for donating the canvas and paint.
Bubbly Break: Mid-morning on Friday, for the first time we offered a fun pick-me-up in the form of champagne cocktails sponsored by Taymor.
VOLUNTEER POWER
Show Manager Laura McDonald Stewart, RID, FASID, IIDA, LEED AP, is extremely thankful to her fellow ASID members on the 2019 Committee for their time and devotion to make this valuable event so successful for the entire region (listed in alphabetical order by last name):
Melinda Crouch, ASID IP Representative – Volunteer Coordinator
Kenda Draper, ASID, RID, LEED AP ID+C – Chair
Dianne Etheredge, ASID, RID – Committee Member Emeritus
Shundra Harris, ASID, RID – Asst. Ambassador Liaison
Theresa Harrison, ASID IP Representative – Asst. Volunteer Coordinator
Isin King, Allied ASID –Committee Member Emeritus
Annette Mallard, ASID, RID – Past Presiding Chair
Rosemarie René, ASID, RID – Sponsor Liaison
Please join us in expressing gratitude to the 15 additional Committee members who worked throughout the last year to plan and promote this collaborative event (listed in alphabetical order by last name):
Carl Bergauer – Committee Member Emeritus
Erica Bish, RA – Asst. CE Coordinator
Nick Cimms, PMP, CSI, NEWH– Program Coordinator
John DuBard, IIDA, CHID, LEED AP – Asst. Program Coordinator
Stacy Elliston, IIDA, LEED AP, RID – Asst. Exhibitor Liaison
Courtney Engberg-Hulse, IIDA – Site & Logistics Chair
John Forest, RID, LEED GA, GREEN AP– Exhibitor Liaison
Cody Johnson – Asst. Site & Logistics Chair
Marc Migliazzo, LEED GA – Asst. CE Coordinator
Jose Montoya, Assoc. AIA, LEED AP BD+C, ID+C, O+M – Ambassador Liaison
Stacia Pease, LEED AP – Co-Chair
Rachel Polk, CSI – CE Coordinator
Keegan Rae – Asst. Ambassador Liaison
Brenda Reber – Committee Member Emeritus
Cindy Rosewell, NEWH, RID – Asst. Sponsor Liaison
The following people and companies also deserve a round of applause for helping make the shared ASID Texas Chapter / ASID Texas Gulf Coast Chapter booth a welcoming haven where members could rest and recharge: Robert Lawrence Designs, Dallas Rugs, Dallas Design Group Interiors , and ASID Texas Chapter President-Elect Lisa Barron, ASID, RID, who coordinated the booth.
We want to express our heartfelt gratitude to the many volunteers who donated their time on-site during the show to assemble attendee tote bags and speaker gift bags, guide attendees, introduce speakers, and monitor CEUs. This event could absolutely not happen without you.
Be sure to visit metroconexpo.org to find links to view photos from this year's show!