ID Legislation & TBAE
The career path of a professional Interior Designer involves formal education, entry-level work experience, and a national qualifying examination [NCIDQ Exam]. Before you can even apply to take the exam, entry-level work experience is required. State and provincial licensing boards now require proof of quality interior design experience for licensure and/or registration, and legislative rules vary from state to state. (If you are an interior designer residing in Texas and want to take the NCIDQ Exam, then go HERE to find out more.)
Outcomes from the 2017 / 85th Texas Legislature Regular Session
The following excerpt was taken from the July 2017 issue of TBAE's Licensing News newsletter:
Test-passing deadline for "grandfathered" RIDs extended by 10 years, and new paths to registration as a Texas RID
Before adjourning in late May, the 85th Texas Legislature amended state law regarding the test-passing requirement for some "grandfathered" Registered Interior Designers (RIDs) which became law four years ago. The deadline for passing all sections of the NCIDQ exam, for those who have not yet done so, was extended by ten years from September 1 of this year to September 1, 2027.
House Bill 1657 was enrolled and signed into law by Governor Abbott on June 15. If you are currently regis- tered and have not yet passed all sections of the NCIDQ exam, the effect of the change in statute is simple. You will now have until September 1, 2027 to pass all sections of the NCIDQ examination and may continue to renew your registration until that date whether you sit for and pass the exam or not. Once you do pass the examination, you may continue to renew your registration indefinitely.
Along with the ten-year extension for passing the NCIDQ examination, the Legislature also passed SB 1932, which increases the number of paths to registration as a Texas RID. For years, the only path to licensure as an RID for almost all aspirants has been to graduate from a program accredited by the Council for Interior Design Accreditation (CIDA), earn the required experience, and pass the NCIDQ exam. As of September 1, 2017, any of the routes provided by CIDQ will qualify aspiring RIDs for registration. TBAE will amend its rules soon to align with the new laws passed this spring, so look for more information on this development in short order.
Texas & Interior Design Legislation
The Texas Board of Architectural Examiners [TBAE] is the multi-profession regulatory agency that oversees the examination, registration, and professional regulation of architects, registered interior designers, and landscape architects in the state of Texas. If you are not yet registered in Texas and want to find out if you qualify either by Examination or by Reciprocity, please go here to find out more.
TBAE requires that every year a Registered Interior Designer must accrue a total of twelve (12) Continuing Education Program Hours [CEPHs]. All of these educational hours must have to do with the health, safety and welfare [HSW] of the public. Please go to the CEUs & CEPHs page to find out many more important details regarding continuing education requirements.
In a 06/22/2015 email to TBAE registrants, TBAE reported that the active renewal fee for these groups will be $200 lower:
By far, the successful proposal [from the 84th Texas Legislature] of the widest and most direct impact to TBAE registrants was a provision of HB 7. A small section of that bill repeals a statutory $200 fee on every Active status renewal and newly issued license, including all three professions regulated by TBAE (and several other types of professionals).

This $200 "professional fee" formerly passed directly to the state's General Revenue and Foundation School Fund, so this legislation has no fiscal impact on the agency itself. In effect, as of September 1 of this year, an in-state Active renewal will drop from $305 to $105, and a reciprocal renewal will drop from $400 to $200. This legislation was signed into law by Governor Abbott on June 15 [2015].
Texas Interior Design Legislation Advocacy
The Texas Association for Interior Design [TAID] is an association representing all the business and legislative aspects of the interior design industry in Texas, and anyone paying dues to ($75 annually) and supporting the goals of TAID may be a member, regardless of whether or not he or she is an interior designer or is even in the design industry.
TAID's Mission is to:
Promote the common interest of the industry
Effectively communicate concerns to government
Provide information and education to members
Protect the Health, Safety and Welfare of the Public
TAID is not a professional organization like ASID, but members of ASID – as well as members of IIDA, other professional organizations, and non-affiliated designers – are members of TAID.

Note that "TAID" is not a proper appellation to use behind your name.
ASID's One Voice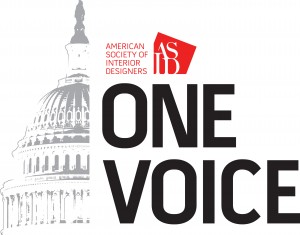 Each day we use our voices and visions to reshape spaces – and the lives of those occupying them – for the better. With those same voices working in unison, we have the power to design a better future for ourselves and for our entire profession.

To do that, every interior designer, soft or loud spoken, must speak up about the issues that affect their ability to practice interior design.

Let's design our future. Join your voice with the thousands of voices of interior designers across the country. LEARN MORE HERE or TEXT "One Voice" to 52886.

From small business owners to large firms, residential to commercial, the future of our profession will be heavily influenced by government decisions. Right now, elected officials are having conversations on issues that affect your lives and careers. That's why ASID has established One Voice.

One Voice is every interior designer's platform – residential, commercial, or Industry Partner, ASID member or non-ASID member – to be heard by their elected officials from the state capital all the way to Washington, D.C. No matter your age or where you are in your career, your voice matters.
The Society & Interior Design Legislation
Of all the opportunities now facing interior design professionals, the movement to secure interior designers' right to practice is among the most significant.

ASID is the interior design profession's leader for the advocacy of interior design right-to-practice issues, building codes, public health, safety and welfare concerns, and other governmental issues relevant to the interior design profession.

ASID has a full-time government and public affairs staff that includes three lobbyists registered with the U.S. House of Representatives and U.S. Senate. ASID staff works with a board-appointed volunteer council – the ASID Government & Public Affairs Council – to forward the Society's legislative and codes objectives.
Go here to learn more and take action.